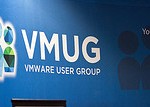 The 2012 Wisconsin VMUG User Conference came to a close last week at the OW-Oshkosh Reeve Hall. The day was filled with informative technical sessions, great vendor booth conversations, peer networking, hands-on labs, and so much more. in our first ever Fox Valley all day conference, we also had the largest turnout of new VMUG members, most of which have never attended one of our local meetings before. There was a lot of information sharing, schmoozing, networking, and fun! We send thanks out to all how helped and contributed, including our sponsors, the lovely ladies from VMUG HQ, the VMware staff, the UW-Oshkosh folks, and of course, our members.
We had quite a bit of feedback already from the attendees and the vendors, but we are always looking for more. If you attended, please fill out the attendee survey you should have received or send us an email and let us know your thoughts.
Here are some photo galleries from the event, taken by Nathan, IDS, and some OW-Oshkosh photographers.
UW-Oshkosh Photos
Nathan's Photos
IDS Photos
Plans are already starting for the 2013 conference, which will likely be held in the Madison area since we will follow our standard regional rotation just as we do for local meetings. You can get more information by attending one of our local VMUG meetings, with the next one scheduled for August 8th at the Sheraton in Brookfield. Registration will be open soon.