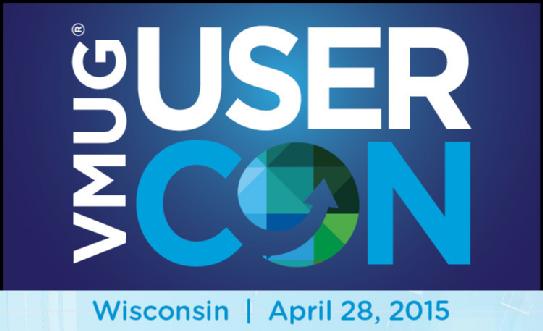 It's almost time for the 6th Annual Wisconsin VMUG UserCon.  The 2015 User Conference is shaping up to be our biggest and we think our best event ever.  It is being held on Tuesday, April 28th at the Madison Marriott West.
Last year we had 480 attendees, our goal going into this year was 525 but we are hoping to go above and beyond that number.  To do so we need your help.  If you haven't registered yet, what better time than now to do so.  Also help spread the word to your customers, co-workers and friends.  This free event is open to everyone whether you are a current VMUG member or not.
If you want to get an idea of what the event is like and the enthusiasm of the attendees, check out this VMUG Membership Benefits video filmed during last year's conference:
There are two outstanding events being held at the same venue the day before to get the ball rolling:
We have teamed up with VMware for a 4 hour VCDX Workshop the afternoon of Monday, April 27th.  Chris Colotti (VCDX #37), Principal Architect and VCDX Evangelist at VMware will be speaking about the VCDX certification process.  You can find out more information about this event here.  Registration for the workshop is part of the UserCon registration.  If you have previously registered for the UserCon, you can add the VCDX Workshop by emailing VMUG: memberservices@vmug.com
As usual, we will be having a vBeers event at the hotel bar in the lobby of the Marriott starting at 5:30pm, it typically goes until the bar closes.  This year the vBeers is being sponsored by our friends at Capital Data and Pure Storage.
Here's some of the highlights of the UserCon:
Giveaways:  As usual there will be lots of giveaways.  The WI-VMUG will start your day out with a great gift for all attendees at registration.  There will be plenty of our sponsors giving away items as well.  To top it all off, the WI-VMUG has partnered with Intel and Synology to put together 3 home labs that well will give away at the closing reception.  You can check out the details on these labs at our blog post here.  Note: You must be present at the closing reception to win!
Keynotes:  We are excited to have been able to arrange for two great speakers from VMware for this year's keynotes.

The morning keynote will be an End User Computing (EUC) presentation by Shawn Bass, Sr. Director of Strategy and Planning at VMware.  (@shawnbass)
Our afternoon keynote is Career Development & VMware Certifications by Chris Colotti (VCDX #37), Principal Architect and VCDX Evangelist at VMware. (@ccolotti)

Community Track:  This year's agenda will once again feature a track of presentations by members of our Virtualization Community:
Sponsor and VMware Breakouts:  In addition to the Community Breakout Track there will be 6 VMware and 9 Sponsor breakouts full of valuable content.  Check out the full agenda here.
Demo Zone:  Something new at this year's UserCon is the Demo Zone that will feature product demonstrations and short customer presentations.
Exhibit Hall:  This years exhibit hall will feature 40 of our sponsors showing off their products and providing great information.  Without them this event would not be possible so be sure to stop in and check them out.
Closing Reception:  The event will end with a closing reception sponsored by VMware.  Be sure to join us as we hand out giveaways from our sponsors and our home labs.  Must be present to win.
While everything highlighted above makes this a can't miss event, many of those who have attended this event in the past will tell you that the biggest reason to attend is all the great networking opportunities with your peers, VMware staff and our sponsors throughout the day. 
There are three last items that we need to point out:
There is not a printed conference agenda for this event, so be sure to download the free Wisconsin VMUG UserCon app.  While there will be WiFi at the event, it's best if you do this in advance.  Not only does this contain the agenda that you can personalize but it also has speaker information, sponsor information, online event survey and will allow you to receive UserCon updates throughout the day.  Details can be found here.
In case you didn't click on any of the links above that will get you there, here is the link for event details and registration.
Speaking of registration, while registering in advance is highly encouraged as it helps us plan appropriately it is not required.  On-site registration is available but it will take you a bit longer in the morning.
We hope to see all of you in Madison for our 2015 UserCon!